I saw a Rocket Bunny Aero-ed S13 with a Shinagawa-license plate in Harajuku the other day. It was also rocking "Ita-ppane" which you can usually find on the trunk of Hakosuka.  It's always nice to see Neo-Kaido-Racer style cars, but seeing one with Shinagawa-license plate is something you don't see everyday.  You see all the crazy custom cars in Japan, but fixed up cars are not very common in the Central Tokyo.  Cops hella mess with you, it's like the Central London or Honolulu. You just don't drive straight piped fixed up cars in those areas.
原宿で、品川ナンバーでロケットバニーのフルエアロ巻いたイチサンを発見。ウィングは板ッパネ。ホイールはフロント17、リア18かな?このエアロ、このホイールサイズで、完全にNEO海道レーサーな雰囲気。品川ナンバーがポイント。もっとよく見てみたい...。誰かの知り合いじゃないかな...。ホントかっこよかったのよ。マフラーは直管だったね。オレのイチサンと同じ音がしたよw
On Sunday before watching Formula 1, Mark and I decided to go eat curry for lunch.  There's this best curry restaurants near Shibuya.  Before we even start ordering food, my friend came in to the restaurant, he said he saw my car parked just outside and decided to join us.  I was gonna introduce him to Mark anyways(and I did try to do so before, and also the day of), so it was a perfect timing!  Check out more pictures on Mark's blog. 
F1観る前にランチ行こーってマークとカレーを食べに。そしたら、たまたま友達が通りかかって店に入ってきた。店の前に停めてたボクのクルマ見て気づいたって。どうせ店には来るつもりだったらしいけど、やっぱりクルマって素晴らしいよね。ボクはよく言うんだけど、やっぱり愛車って自分の分身だと思うわけ。名刺っていう人もいるけど。オレは分身のほうがしっくりくる。ちょうどマークを紹介したいと思ってたからちょうどよかった。趣味も合うと思うし。やっぱり英語が喋れるって重要だよね。ちょっとでもイイからさ。全然違うから、仲良くなれる度が。詳しくはマークのブログで。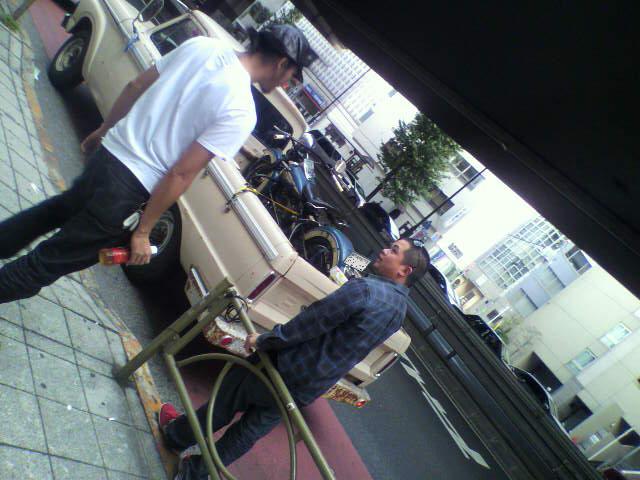 On Monday, a Formula 1 driver Tonio(Vitantonio Liuzzi), a Formula Nippon driver Andrea(Andrea Caldarelli) and I walked around Harajuku.  We went to B-Side, Montoak, BAPE, Neighborhood, Head Porter, addidas originals, Quenchloud, Challenger, title., etc, and then we went to see Ryo Ishikawa, the owner of Vanquish on Tuesday.  It was nice seeing you again Tonio, and it was nice meeting you Andrea. I'll see you guys in 2 weeks!  
で、月曜と火曜はF1ドライバーのヴィタントニオ・リウィッツィと原宿巡り。 一緒にいた友達も好青年だなーと思ったら、2008年にはトヨタF1のテストして昨年はスクーデリア・フェラーリのF1テストもしたアンドレア・カルダレッリだった。まぁ、ボクはそんなこと知らないから途中で名前忘れて、あ、名前なんだっけ?って何回か聞いちゃった。ゴメンね。てか、3人で行動してたんだけど、そのうちオレ以外の2人がF1乗ったことあるってどんだけよ。F1乗ったことない人がマイノリティって...。